Grand Finale Street Fair
Join us for the biggest event of the summer!
July 30 | Rustburg Library | FREE | 10 AM-2 PM 
Celebrate Campbell County's Summer Reading accomplishments with fun for the whole family. Check this webpage for updates and to see an up-to-date list of all our community partners who will be attending! Food trucks, dunk tank, VMFA Artmobile, Amazement Square, Academy in Motion, Sylvan circuits, John Deere, First Responders, Bee Line Transport Rotator, Sheriff's Office Vehicle Show, 50+ vendors, photo ops, art displays, and so much more!
This event is for all ages. No registration needed; swing by anytime. This event will be mostly outdoors.
Need accommodations or have questions? Email campbellevents@co.campbell.va.us or give the Events & Experiences Team a call at 434-313-3104.
*Scroll to the bottom for our current vendor list.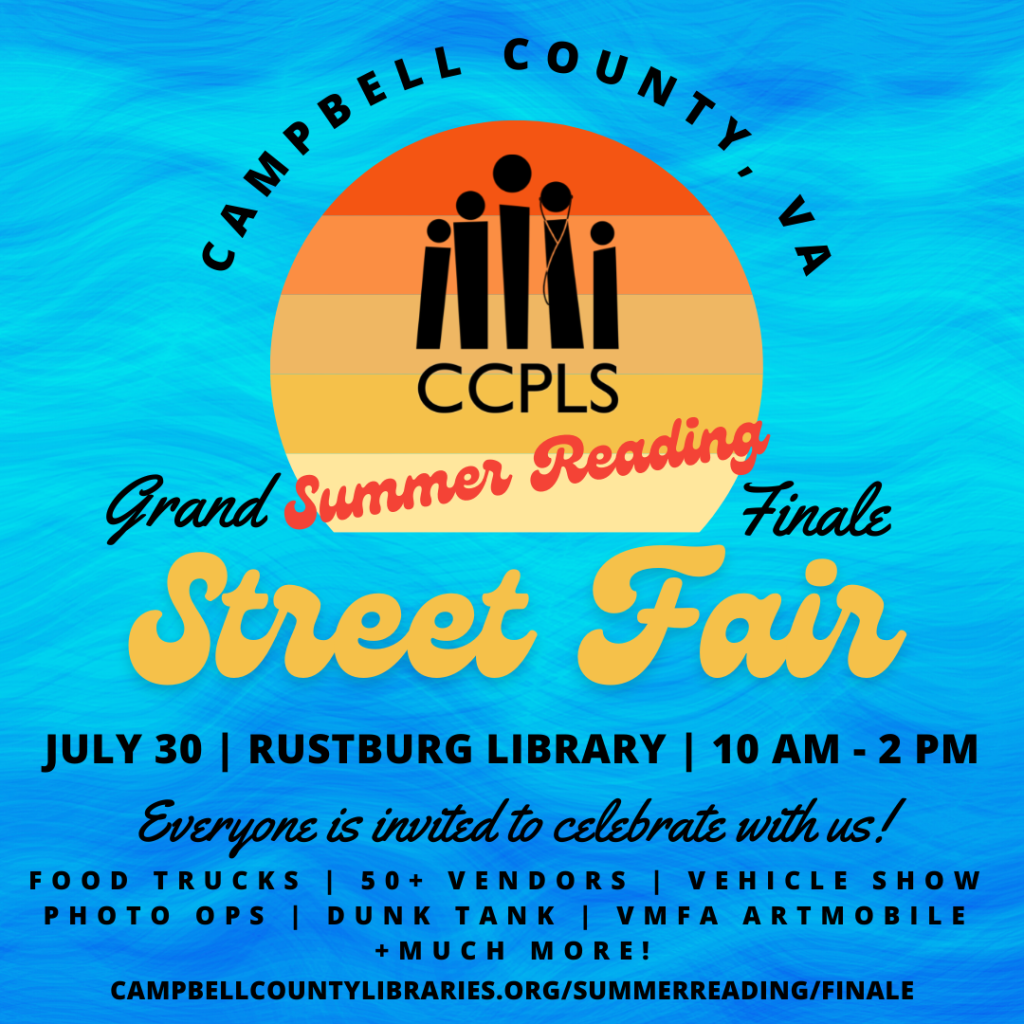 Look who is coming:
Campbell County Sheriff's Office Vehicle Show
Imagination Station Studio – Paint Splatter 
Sylvan Circuits Demo
Balloon Dude Travis
Grinnin' Booth – take free pictures for you to remember the day!
Amazement Square – Art Project
Virginia Museum Fine Arts Artmobile
Phillips Equipment Corp. – Bringing Vehicle
FunQuest – Princess/Character 
Blown Away Creations  – Photo Op
Card My Yard – Photo Op
Academy In Motion Art Bus 
Jack Dean from State Farm Dunk Tank
Bee Line Transport Inc. – Rotator Demo
Pampered Chef – Independent Consultant – Terry H.
Handcrafted with Kare – Body Products & Jewelry 
A.E. Creations – Melted Crayon Creations, Magnets, & Keychains
Hadley's Happenings – Handmade Earrings & Keychains
Johnson Health Center 
Campbell County Registrar
Foster Fuels Inc.
The Festive Circle – Wreath & Handmade Items
Just A Dream Away Travel
Long Mountain Motor Sales 
Campbell County Economic Development
Thirty-One Consultant – Holly Rudder
Beautiful Crazy Boutique – Kids Toys & Accessories
Rustburg United Methodist Church
The Learning Edge Tutoring Center, LLC
Tough Ole Bird – Paracord Keychains & Necklaces
Blessed Creations – Beaded Keychains & Kits
Beach Bum Dreams – Jewelry
The Potted Poodle – Beautiful Clay Creations & Kids Can Mold Clay
Virginia Career Works
Mid-Atlantic Battle Group – Play, Discuss, & Build Battle Warships
B&K Creations – Wreaths & Table Decor
Furtastic Designs – Animal Themed Accessories
Wish Upon A Star – Magic Wands & Princesses To Meet 'N Greet
Better Business Bureau Serving Western Virginia
Balance Gymnastics and Fitness
Campbell County Farm Bureau Women's Leadership
Campbell County Historical Society
Accessories by Sylvia – Tote Bags, Jewelry
Queen B Design's – Decorative Wreaths
Twisted Flames Candle Co. – Candles
Special Education Advisory Committee
Campbell County Adult Literacy
Wool Branch Farm – Flower Market
BARCC – Bringing Animal Renovations to Campbell County
Discovery Toy – April Nix
Landon's Lemonade Stand – Info Booth
Getting Crafty with Kendra
Central Virginia Chiropractic Center Inc.
Central Virginia Master Naturalists – Water Cycle Activity/Fairy House Construction
Mary Kay – Lauren Rothe
Chick-Fil-A – Wards Rd. – Activity
Old Dominion University Online
Central Virginia Land Conservancy
Sonny Merryman – Electric School Bus
Bust A Move Dance Academy
Altavista YMCA
Rustburg Volunteer Fire Department
Rustburg Dixie Softball
Patrick Henry Memorial Library Friends
Phoenix Fire & River Glass Creations
Operation Party Rescue – DJ
Timbrook Library Friends Group
Rustburg Library Friends Group
Food:
Airstrip Grill
Uppercrust Pizza
Paradise Ice 434
Firefly Grove Confectionery