NASA Beanstack Challenge – Virtual
When:
December 1, 2021 – December 31, 2021
all-day
2021-12-01T00:00:00-05:00
2022-01-01T00:00:00-05:00
Contact:
Ellen Glickman
434-313-3104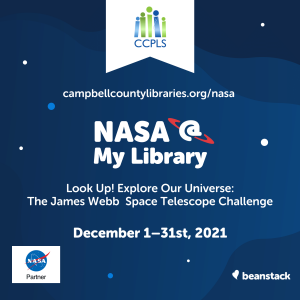 Explore our universe with an out-of-this-world Beanstack challenge!
Learn all about the science behind NASA's newest space telescope mission, the James Webb Space Telescope. Scheduled to launch this winter, JWST is the most advanced infrared space telescope ever launched and will allow us to look deeper into time and space than ever before. The James Webb Space Telescope Challenge was created through a Beanstack and NASA partnership. It is available on CCPLS Beanstack from Dec. 1 – 31 for ages 5 – 17.
Website event page: campbellcountylibraries.org/nasa
CCPLS does not discriminate on the basis of disability and upon request will provide reasonable accommodations to ensure equitable access to its programs, services, and activities. To request an accommodation for any of the Library's programs, services, or activities, please inform the Library Director of your accommodation request at least 7 days prior to the activity date or service need, using email (Ljwelborn@co.campbell.va.us) or phone 434-332-9657.