Moton Museum Virtual Visit with CCPLS – Online
When:
February 10, 2022 @ 10:00 am – 11:00 am
2022-02-10T10:00:00-05:00
2022-02-10T11:00:00-05:00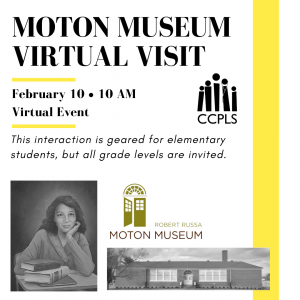 The Moton School Story can be told from many different perspectives. This version of the Moton School Story uses primary sources to inform about Moton's history and that of the April 23, 1951, student-led strike, when students walked out of school protesting inadequate educational facilities. The Moton School Story is a story of how the "Separate but Equal" Supreme Court decision impacted the Prince Edward County community and the story of those that resisted "Separate but Equal."
The Moton Museum will be visiting us virtually through Zoom in an outreach opportunity for families and schools on Thursday, Feb. 10, 10 a.m. (Teachers are welcome to join with their class.)
Claim your spot through our Eventbrite link: https://www.eventbrite.com/e/moton-museum-virtual-visit-wccpls-tickets-244466013427.
This interaction is geared for elementary students, but all grade levels are invited.
CCPLS does not discriminate on the basis of disability and upon request will provide reasonable accommodations to ensure equitable access to its programs, services, and activities. To request an accommodation for any of the Library's programs, services, or activities, please inform the Library Director of your accommodation request at least 7 days prior to the activity date or service need, using email (Ljwelborn@co.campbell.va.us) or phone 434-332-9657.