Summer Reading Grand Finale Street Fair 2023
July 29 | 10 AM-2 PM | Rustburg Library
The biggest event of the summer is back!
CCPLS is hosting our Summer Reading Grand Finale Street Fair in Rustburg on July 29, 2023. We will hold this free event from 10 AM – 2 PM with most events being outside, but activities will also be inside the library and Historic Courthouse.
This event is geared for the whole family and is a celebration of our community and the minutes we read this summer! Last year, Campbell County logged 1.2 million minutes of reading! Even if you don't get a chance to participate this summer, you are still invited to attend this fun day! All ages are welcome.
50+ vendors, including:
Amazement Square
Uppercrust Pizza
Airstrip Grill
Sylvan Learning & Circuits
Dunk Tank sponsored by Jack Dean at State Farm
Photo Ops
Historic Courthouse Planetarium
Giveaways
+Keep watching the list grow over the next two months!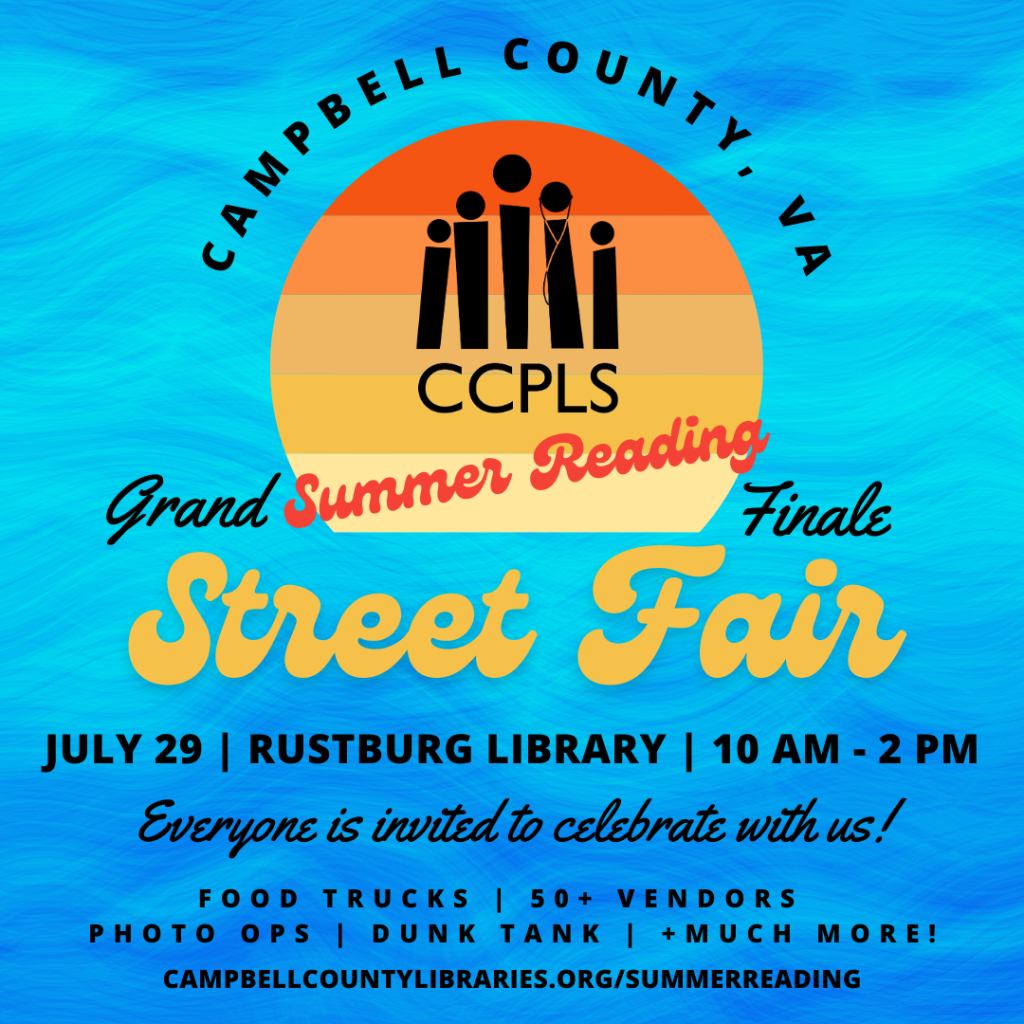 2022 Vendor List:
Amazement Square
Balloon Dude Travis (11am to 1pm)
N'Action Mobile Arcade
Little Critter Traveling Petting Zoo
Imagination Station Studios (spin art)
Sylvan Learning Center – Lynchburg (robotics)
Daura Museum of Art, University of Lynchburg
Virginia Museum of Fine Arts (artmobile)
Upper Crust Pizza – Food Truck
I Scream, You Scream – Trailer/Food Truck
Sara Ernst / Wild Pickle Press Mini-Concert (12pm)
Bee Line Towing / Kubota
Natural Bridge Appalachian Trail Club
BARCC – Bringing Animal Renovations to Campbell County
Friends of the Rustburg Library
Texas Roadhouse
Campbell County Farm Bureau Women's Leadership Committee
Campbell County Economic Development
Blue Eagle Credit Union
Campbell County Historical Society
Art By Deon (artwork & magnets)
Patrick Henry's Red Hill
A & J Designs (artwork and crafts)
Better Business Bureau Western Virginia
Rustburg United Methodist Church (yard sale next door from 8am to 12pm)
Campbell County Registrar's Office
Johnson Health Center
AP Scott (local author)
Esther Loring (local author)
The Potted Poodle (pottery & ceramics)
Brittany's Creations (t-shirts)
Riverviews Artspace (printmaking activity with small press)
Olive's Branch Thrift (hand picked vintage & modern clothing)
Norwex
CASA of Central Virginia
Campbell County Public Employee Relations
Campbell County Parks & Recreation
Pampered Chef
Robert E. Lee Soil & Conservation
Friends of the PHML-Brookneal Library
American Heritage Girls
Marine Corps Recruiting
Handmade Embroidered Keychains
Mary Kay
Tie Dye For Lynchburg
Chick-fil-A : Wards Rd. & River Ridge
Card My Yard – Lynchburg
Jack Dean from State Farm (dunk tank)
Mays-Wisecarver Insurance
Friends of Campbell County Animal Control (FOAC)
Grand Slam Martial Arts (demos at 11am & 1pm)
Firefly Grove Confectionery
Landon's Lemonade Stand
Magical Travels by Rebecca, Just a Dream Away Travel, LLC
UMFS
Rustburg Dixie Softball
Accessories by Sylvia
Bank of The James
Beach Bum Dreams – Earrings