Friends of the Patrick Henry Memorial Library in Brookneal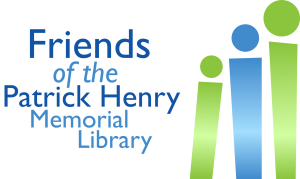 The Friends of the Patrick Henry Memorial Library (PHML) are supporters of PHML programs and services. Recently, the Friends have provided the library with paint for the new Children's Literacy Room. They are fundraising to replace the carpet and purchase cabinets. In addition, the Friends regularly provide funding for new books and materials such as posters, bookmarks, and prizes for Summer and Winter Reading and supply refreshments for the annual Santa event, Preschool Programs, and evening Family programs.  Frequently the Friends themselves volunteer their time to come and work at the programs serving refreshments, doing crafts, etc. They also sponsor a needlework group each Thursday night at 6:30 pm at the library.
Get Involved
Rada Cutlery Sale
On sale now!  Stop by the library any time during regular hours to put in your order for high quality knives, stoneware, cooking utensils, cookbooks, dips and mixes, and much more.  Prices are low and proceeds benefit the Friends.  Many of the items make excellent gifts!
Ongoing Book Sale and Bargain Table Sale  Rather than a large event once per year, the Friends maintain an ongoing book and bargain item sale in the PHML.  Prices start at $0.25.  Bargain items go fast, so visit often to catch the best deals!
Book Donations to support the sales  Public donations are crucial for our sales; we resell books, video and audio cassettes, and DVDs. Donations of materials in good condition are appreciated and can be delivered directly to the library during regular hours.  We also accept donations of items for our Bargain Table.  Call 376-3363 for details.
Monetary Donations  Accepted any time during regular library hours.
You can join the Friends while at the PHML and attend their meetings regularly scheduled in meeting room of the PHML. For additional information, please contact Janet Sheppard (434-376-6809).