Wintry Windows Teen Art Contest
When:
December 17, 2021
all-day
2021-12-17T00:00:00-05:00
2021-12-18T00:00:00-05:00
Contact:
Ellen Glickman
434-313-3104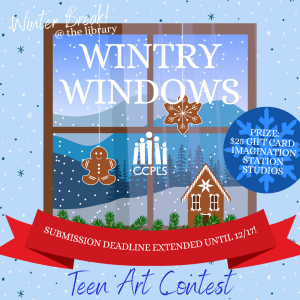 Update: Deadline extended to Friday, Dec. 17!
Teens (ages 11 to 17), here is a chance to showcase your art! Help us cover the Rustburg and Timbrook libraries' windows with imaginative wintry artwork.
By Friday, Dec. 17, submit a sketch of a winter scene as if looking through a window from the inside or outside. Please submit it on our website at campbellcountylibraries.org/wintrywindows.
Then selected artists can pick up a window art kit at their home library during winter break, starting on Wednesday, Dec. 22 until Thursday, Dec. 30. Kits will include acrylic paint, paintbrushes, and white paper the size of a library window. Return completed artworks by Jan. 3.
This will be a temporary art display, and one artist will be selected for a prize.
Submit entries by Dec. 10. Find more information at campbellcountylibraries.org/wintrywindows.
CCPLS does not discriminate on the basis of disability and upon request will provide reasonable accommodations to ensure equitable access to its programs, services, and activities. To request an accommodation for any of the Library's programs, services, or activities, please inform the Library Director of your accommodation request at least 7 days prior to the activity date or service need, using email (Ljwelborn@co.campbell.va.us) or phone 434-332-9657.