Created in Campbell
Campbell County Public Library System's "Created in Campbell" display seeks to showcase and exhibit work from artists based within Campbell County.
Our "Created in Campbell" display is featured on Virginia's Artisan Trail Network. Artisan Trails are part of a larger Virginia Network that connects creative and agricultural artisan studios/farms, markets/shops, and other cultural points of interest in communities to enhance visitor experiences.
If you are an artist and are interested in exhibiting your work here at the library, please ask the front desk for details. We would love for you to be part of this community display!
Sponsored by: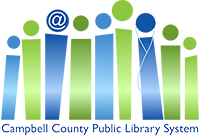 Featured On: